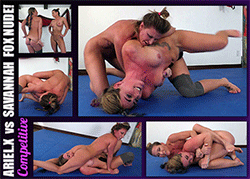 WE 073 - SAVANNAH FOX VS ARIEL.X
NUDE COMPETITIVE MATCH.

Sexy Babe Savannah is less experienced , but she is game to try her first ever match against champion Bombshell Ariel.X who has plenty of experience. The two match up in size. Ariel.X is slightly short of 5'3&and weighs 120. Savannah is 5'5, 150 lbs. They stand side by side ready to go and quickly strip down to their birthday suits! Ariel is determined to NOT let Savannah beat her. It would be completely devastating to her but Savannah, on the other hand, is ready to make a name for herself in the wrestling world so she MUST do her best to win this match! She starts out a little clumsily and giggles a bit at how foreign it is to her but soon her face changes and she starts taking this match seriously. Ariel is cocky as she gains a submission! The sweat starts to drip down their bodies. Body Scissors! Head Scissors! Breast Smothers! Match Box Pins! Full Grapevines! Rncs ! Armbars! The girls fight on!!! Unbelievably Sexy Competitive Sweaty Female vs Female Fighting! If you love Competitive Female vs Female Wrestling, you'll love this !!

22 Minutes - MP4 - 1920 x 1080 - 885 MB - USD 24.99