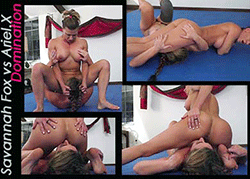 WE 074 - SAVANNAH FOX VS ARIEL.X
ARIEL DOMINATES SAVANNAH.

In their recent competitive match Ariel.X and Savannah had agreed to the rule : The winner will do whatever he wants to punish and humiliate the loser !! Savannah is the loser, she reluctantly lays down on the mats. There is a clear winner and she places her ass on the loser's face to dominate, to humiliate and to use the loser for her winning pleasure!!

10 Minutes - MP4 - 1920 x 1080 - 435 MB - USD 11.99