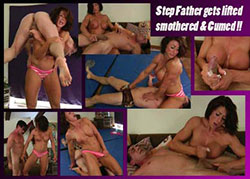 WE 071 - BOSSY STEP-DADDY GETS LIFTED
SMOTHERED AND CUMED !

Tall and muscular amazon doesn't like the way her step-daddy is being bossy and decides to enjoy the training session her way !!! This means crushing and scissoring the step-daddy, face sitting him before taking his pant and underwear off !! Following is humiliation as lifts and carries around the room, pulling hard on his genitals before laying him down on her lap and forcing him to cum between her hands !!!

11 Minutes - MP4 - 1280 x 720 - 215 MB - USD 14.99