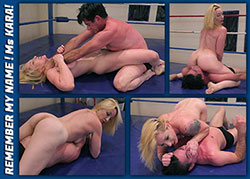 WE 082 - REMEMBER MY NAME !
MISTRESS KARA MAULS STEVE !

Robin is introducing the match between Mistress Kara and Steve when Steve suddenly interrupts her. Mistress Kara and Robin are stunned as Steve is obviously upset! He says he is SICK of this! He can't stand the women being called Mistress and Goddess! The two women seem amused by Steve's outburst. Robin then resumes the introduction of the opponents. Mistress Kara vs Princess Steve! Kara is determined to punish Steve for his impudence! The match is on! Mistress Kara uses her amazing skills to get the upper hand in the match early on! Then she resorts to some underhanded tactics to distract him! As she wrestles she removes her bikini top and her bikini bottom! Kara is naked, gorgeous and dominant as she begins to taunt Steve! Steve can't stand this! He is outraged! But Kara continues to play with him! Steve struggles hard but Kara is too fast and strong physically for him! He tells her to put her clothes on! She laughs and says make me! Mistress Kara in all of her stunning nakedness is all over Steve! She scissors him and smothers him under her naked ass! She is proudly naked, beautifully dominant as she controls Steve, almost effortlessly in the match! Steve fights on but continues to fail which makes him crazy angry! Mistress Kara uses Rear Naked Chokes, Front & Reverse Head Scissors, Arm Locks, Full Body Nude Pins! She smothers him with her incredible ass and pussy until he begs for her to stop! The intense match continues with both Kara and Steve are sweating profusely! Kara stalks Steve around the ring as he scrambles to escape her! She demands that Steve say to her, Mistress Kara, you're the Queen! She slides her sweaty ass all over his face! She tells him to speak into her Goddess Ass! Kara grabs Steve's balls, demanding that Steve tell her his balls are hers! Kara works Steve over until he sees things her way, which he soon does! She is MISTRESS KARA, the queen! He is a lowly male now with the nickname Princess Steve! Long Live The Queen!!

20 Minutes - MP4 - 1920 x 1080 - 890 MB - USD 21.99