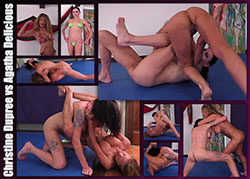 WE 081 - CHRISTINE DUPREE VS AGATHA DELICIOUS
NUDE COMPETITIVE MATCH !

Agatha Delicious, 5'125 lbs vs Christine Dupree 5' 115 pounds face each other in a 100% competitive wrestling match! Agatha gives a little background telling us she is skilled in jujitsu, karate, kick boxing, MMA and probably some other things too, while Christine looks on aghast. She is obviously wondering who this woman she is up against! Christine tells us she has done Jujitsu, Kickboxing and Boxing but not for a while;but she's not making excuses. This girl knows how to fight. she's been fighting for years and she is damn good at it. The two beautiful athletes are ready to go at it, stripping to their birthday suits! Agatha flexes for the camera and the action begins! To say both gals are extremely competitive and skilled is an understatement. These mats on on fire! Christine is a warrior with a temper and often becomes frustrated when faced with a very skilled opponent who threatens her ability to win the match. Christine kicks at Agatha but Agatha moves in, struggling for control. The competition is awe inspiring! Both of these sexy beasts give it their all! The sweat is dripping from their tight muscular bodies as one of the girls gains a submission. They go at each other without a break. Christine starts bitching at Robin, the producer, saying Robin told her Agatha would be easy. Entirely untrue. Both opponents begin to tire, but they are tenacious and fight on. Each struggles for a submission and over and over, the defense of both is too good! It's a back and forth war! One begins to fight dirty, going for a bit of hair pulling and hands in her opponent's face, kicking. The other keeps her cool! The drama escalates as the sweat pours. Although this is an incredibly energetic match with two very evenly skilled opponents, one is obviously not happy! Maybe she had to work too hard? Finally after 21 minutes of outstanding fighting, a winner is declared. She is thrilled to take the loser and humiliates her with face sitting, pussy rubbing, and some light toe play and licking and some very hot tribbing. The loser is a very unhappy underdog as the winner uses her for her ultimate pleasure! Her Big Orgasm!!! There is a very SEXY and SATISFIED Winner and a very humiliated loser at the end of this video! Wishing you your ultimate pleasure in viewing!

32 Minutes - MP4 - 1920 x 1080 - 1 GB - USD 31.99