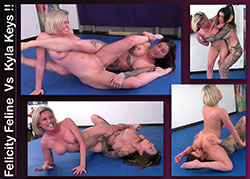 WE 084 - NUDE COMPETITITE FEM/FEM
KYLA KEYS VS FELICITY FELINE !

Gorgeous energetic blonde, Kyla Keyes 5'3 115 pounds faces Sexy Hot Felicity Feline 5'6125 pounds in a nude 20 minute submissions only wrestling match! Kyla has wrestled a handful of times and eagerly anticipates the outcome of this match. This is Felicity's 2nd match and she finds Kyla's nervous energy amusing! Felicity has a more serious demeanor, trying to keep her composure as the match begins! The tiny sequined bikinis are soon stripped off and Kyla dives in for a take down! These beautiful beings struggle hard from the beginning, each trying to get the other to tap! The match is fast paced and Kyla fights with frantic determination! Felicity's defense is very good. She has a very strong tight yoga body which can hold the squirming little blonde in place and her attacks at bay for a while! But Kyla's wild struggling gains her a few submissions! But Felicity gains submissions, too! With some training this one could be a real python!!! There is something very sexy about watching two untrained women wrestle, trying to pin each other, panting, sweating, seeing their determination & frustrations unfold onto a sweaty mat! Kyla and Felicity have such different styles that they bring to this very entertaining fight! Kyla is spunky, wild and very vocal! Felicity is the strong silent type, but they are both like sexy little naked tomboys, scrambling for the win! Neither of these girls wants to lose! Nobody wants to be a loser! But finally there is a clear winner and it's time for her to humiliate the loser! And this is HOT! The loser is suddenly very submissive! As the winner of this HOT match sits on her face, the loser licks the winner's sweaty pussy and ass! These HOT Babes get into some very sensual tribbing, wildly stimulating each other to the point of orgasm! And just for a little twist, to sexually arouse each other even more, the winner has the loser sit on her face so she can give some horny pussy licking in return! Felicity and Kyla are so turned on after all this clitoral stimulation that they work themselves up into a hot wet pussy explosion! WOW! But after this incredible display of fireworks, the winner has to rub it in the loser's face, that SHE is still the winner! And in a very subdued voice, the loser replies...Not next time! Well we all hope there IS a next time for these two! INDEED! DOUBLE WOW! DEFINITELY DO NOT MISS THIS!

31 Minutes - MP4 - 1920 x 1080 - 1.4 GB - USD 31.99