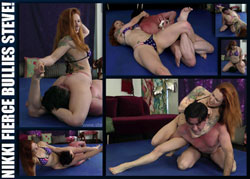 SWA 331 - NIKKI FIERCE BULLIES STEVE !
10 MINUTES TO ESCAPE !

Cruel and bully Nikki Fierce has Steve tied up and she likes to use him for her pleasure ! Steve begs to be released, magnanimous Nikki agrees to free him and gives him 10 minutes to escape the room. If if fails to, she promises him some hard time. Steve's hands are freed but she has already pounced on him and put him in a tight headlock. Steve attempts to flee are swiftly quailed. She has no intention to let her toy go and Steve cannot get off the brutal bully! Time is up and Steve is tied  again. Time for payback and Nikki will use her legs extensively to punish him ! She is well known for her devastating head scissor, not only she squeezes hard but she is also able to maintain the pressure for a long time, way longer that any man can endure. What's following is just Scissor Horror Show with as well as smother and choke holds !! Will Steve survive the bully ?

21 Minutes - MP4 - 1920 x 1080 - 700 MB - USD 21.99